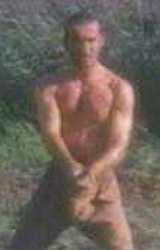 Thanks so much to Godiva, Pookah, Gypsy, MethosLuvr, DL and Linda Freeman (Stan pic) for these pics!
Before the day of reckoning, before the Gathering, they shall band together.
Joining forces for one ultimate show of courage.
For Immortality, they're going for the FULL MONTY.

"I'm looking for some HotStuff baby this evening ..I want some HotStuff baby tonight.
Gotta have some HotStuff baby this evening ...
Gotta have some HotStuff, gotta have some HotStuff tonight .."

Six brave Immortals under the dancing supervision of Watcher, Joe Dawson and Amanda D. For one night, before they chop each others heads off ... Together, they shall STRIP!
"I believe in miracles, where you from? You sexy thing *you sexy thing* ..
I believe in miracles, since you came along. You sexy thing *you sexy thing*"
Please Read Disclaimer below before proceeding
Day One of Rehearsal
Day Two of Rehearsal
Day Three of Rehearsal
3 hrs to UnDress Rehearsal
Where's BG?
To the Warehouse!
UnDress Rehearsal
After Dress Rehearsal
Night before Showtime!
Showtime!
Revelations: Prologue to Sequel

Disclaimer
The whole cast of Highlander: Duncan MacLeod, Methos, Connor MacLeod, Kronos, Richie Ryan, Hugh Fitzcairn, Amanda, and Joe, all belong to Rysher/Panzer/Davis. Godiva belongs to herself and so does the other FLers mentioned. BJ and AJM are NOT strippers in Real Life. BG, well .. I am she or I am her .. whatever. Yes, I write. But it isn't for greed, it isn't for profit .. it's because .. I like it! Uhuh, recognition is nothing. Money is nothing. Do you know what I am? A writer. *insert maniacal laugh here* Is that what you want to hear? Then the answer is yes .. Oh Yes!
This Fanfic is rated R for its Adult content and implied innuendos
© Copyright 1998 Bright Girl